An Invitiation
to NCAC Scouts and Scouters
The following text is drawn verbatim from a flyer that is being distributed via district roundtables and other means during June and July 1999 to Scouts and Scouters around the National Capital Area Council.
A Special Camping Opportunity Awaits Scouts and
Scouters at George Washington's Mount Vernon
When George Washington passed away at his Mount Vernon home in December 1799, the still young United States of America went into an intense period of mourning. Two hundred years later, George Washington still holds a special place in the hearts of Americans.
To honor George Washington, the National Capital Area Council of the Boy Scouts of America will hold a special Spirit of George Washington Encampment at Mount Vernon during the first weekend of November 1999. From Friday evening, November 5, to Sunday morning, November 7, about 1,000 Scouts and 150 adults leaders from troops, teams, crews, and posts across the council will enjoy two nights of camping and a full Saturday of program activities on the Mount Vernon grounds to help commemorate the life of George Washington.
The Mount Vernon Encampment is a special opportunity for Scouts. Never before have Scouts been invited to camp out on the estate -- to sleep on the grounds where George Washington slept many nights.
Although space is limited, you have the opportunity to join Scouts and Scouters from around the council in an exciting and rewarding weekend -- but only if you act quickly.
---
What Special Events Are Planned
for the Mount Vernon Encampment?
In addition to having lots of fun, Scouts participating in the Mount Vernon encampment will have special opportunities to learn more about George Washington, what he meant for the nation, and what he still means for us today. Following are just some of the things that Scouts will be able to do during the encampment:
| | |
| --- | --- |
| u | Meet with reenactors to discover how soldiers in Washington's army dressed, camped, ate, and treated illnesses and injuries. |
| u | Participate in military drills used 200 years ago by the Continental Army. |
| u | Organize your campsite in accordance with instructions from General von Steuben. |
| u | Greet General Washington when he comes to inspect his troops. |
| u | Learn surveying techniques and equipment like those used by young George Washington. |
| u | Explore the mansion at Mount Vernon during times it is not open to the general public. |
| u | Hear President Washington talk about the relationship between church and state and other pressing issue of his time and ours. |
| u | Sing songs and watch skits at a campfire like those Washington's troops would have enjoyed |
| u | Participate in a special "Grand Salute to George Washington" and pay your respects to this great man at his tomb. |
| u | Try your hand at farming and conservation techniques that Washington helped introduce. |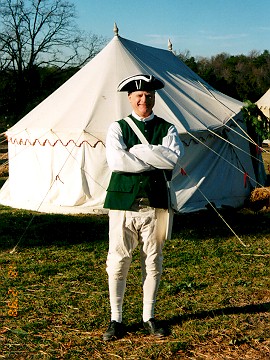 ---
For more information about the Mount Vernon Encampment,
check out the Encampment Web site at:
http://members.tripod.com/colonialdistrict1/SGW/
---
What Do You Need To Do If You Want
to Participate in the Mount Vernon Encampment?
Because space is limited and coordination among campers is essential, Scouts and adult leaders wanting to participate in the Mount Vernon Encampment must register through their districts. Each district will form one or more provisional units whose members will camp, cook, and participate in the weekend's many activities together.
To apply for a space in your district's Mount Vernon contingent, fill out the form at the bottom of this sheet and return it to the District Encampment Coordinator, whose name, address, and phone numbers are listed in the box on the back of the form.
Complete (by printing neatly) and mail this form to the District Coordinator listed on the reverse side of this form.
**************************************
Yes, I want to participate in the Mount Vernon Encampment on Novermber 5-7, 1999! I am a Scout [ ] Adult Leader [ ].
Name _____________________________________________
Address ___________________________________________
City, ST Zip ________________________________________
Phone _________________ Troop/Crew/Post/Team No. _____
Rank (if a Scout) or Position (if an adult) ___________________
| | |
| --- | --- |
| The Pioneer Farm at Mount Vernon will provide Scouts with opportunities to learn how George Washington farmed his land with a view toward conservation of the soil and other resources. | |
---
What Are the Answers to Some Questions Many Scouts
Have Asked About the Mount Vernon Encampment?

Will the Mount Vernon Encampment be fun?
You bet it will! From morning through evening, the Saturday program will be an exciting one with ample opportunities for Scouts to participate, learn, and enjoy, as will camping on the grounds of George Washington's home under the watchful eye of Continental Army reenactors.

Can my entire troop participate?
Only individuals, not troops, can register to participate in the Mount Vernon Encampment, but if you get your friends or your entire patrol to apply to your district, they all may be able to join you.

Are there any requirements for participating?


Some districts have established minimum rank or age requirements, so check with your District Coordinator to see whether you are eligible. Both Scout and adult participants also will be required to write Ten Scout Rules of Civility for the 21st Century (modeling their suggestions on the rules George Washington wrote in his early teens) and to conduct a community activity (either on their own or as part of a group) honoring George Washington prior to the encampment. Those activities can be completed after you apply, possibly with others in your district contingent.

What payment will be required?


After you have been notified by your district that you have been selected to participate, you will need to send a check for $35 to the NCAC office. That fee will cover all costs associated with the encampment, including food and program costs.

When Should I Submit My Application?
If you want to participate, you should submit your application as soon as possible,. Applications can be accepted as late as September 15, 1999, but if you delay and the spaces made available to your district have filled, your application will be accepted only on a "stand-by" basis.

Can I participate in Saturday program activities even if I can't camp overnight?
Yes, all Scouts (including Cub Scouts and Webelos) are invited to participate in program activities at Mount Vernon from 9:00 AM to 4:00 PM – although these activities will not be as extensive as those available to encampment participants.

**************************************

For more information about your district's involvement in the Spirit of George Washington Encampment at Mount Vernon, contact your district coordinator.(Click here for a list of District Encampment Coordinators.)