LEAVE NO TRACE PROGRAM
AT THE COLONIAL DISTRICT
SPRING 1999 CAMPOREE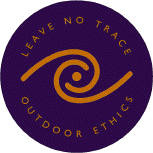 The Saturday program at the Colonial District Spring 1999 Camporee will provide exciting opportunities for Boy Scouts and Venturing Crew members to enhance their use of the Principles of Leave No Trace in outdoor activities. Special programs will be geared to Scouts at different levels:
First-Year Scout Program:
Hands-on activities will enable Scouts working on Tenderfoot, Second Class, and First Class ranks to meet various outdoor-oriented advancement requirements, with special emphasis given to the incorporation of the seven Principles of Leave No Trace into fundamental outdoor skills and philosophies. Activities will be conducted by a team of six mature Scouts and two adult leaders who have been especially trained to expose new Scouts to LNT while helping them get off to a good start on the Scout advancement ladder. A LNT Master also will participate in these activities.
Older Scout Program:
Older Scouts will spend the day moving among six stations where a team of specially trained Scouts and adult leaders will conduct a set of participatory activities. These activities are designed to expose Scouts to all seven of the Leave No Trace principles so that they will be able to apply them on future outdoor expeditions. Scouts participating in this program will meet one or more of the requirements for the BSA Leave No Trace Awareness Award.
Scout Trainers:
In keeping with the principle of Scouts leading Scouts, 36 mature Scouts will serve as trainers in both the First-Year Scout and Older Scout Leave No Trace programs. To ensure that these trainers are qualified, they will participate in a special train-the-trainer session at Prince William Forest Park on Saturday, March 20, and Sunday, March 21. Click here for more information about this opportunity.
This page was last updated on 01/19/99.
Copyright © 1999, Colonial District, All Rights Reserved