COLONIAL DISTRICT FALL 1999
SCOUTMASTERSHIP FUNDAMENTALS
Basic Leader Training for All Adults
Working with Boy Scouts
Thursday, September 9, 7:00-10:00 PM
Nativity Lutheran Church
Note that this location is a change from previous announcements.
Nativity Lutheran Church is immediately across Collingwood Road from
Aldersgate United Methodist Church
Saturday, September 11, 8:00 AM-4:45 PM
Aldersgate United Methodist Church
Friday, September 17, 7:00 PM-
Saturday, September 18, 10:00 PM
Fort Belvoir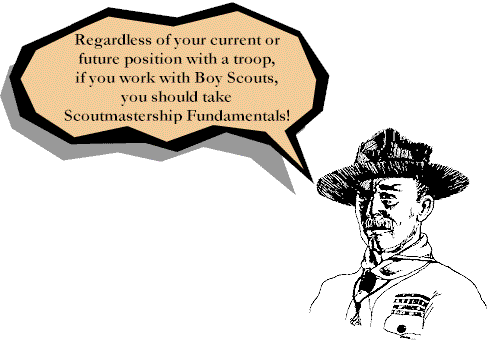 Scoutmastership Fundamentals is THE basic training course for Scoutmasters, Assistant Scoutmasters, Troop Committee Chairs, Troop Committee Members, and any other adult who will work in some capacity with a Boy Scout troop. Even parents who do not envision themselves as formal leaders in a troop should take this course in order to better understand fundamental principles and procedures that help troops function effectively. Parents of Webelos Scouts who will bridge over to Boy Scout troops will find this course especially valuable.

Scoutmastership Fundamentals is the course where leaders learn the fundamentals, the basic knowledge needed to bring a successful Scouting program to our boys. An experienced team who have served in many capacities within Colonial District troops guide participants through a set of hands-on activities that show how patrols and troops are structured and operate. Surveys of past participants indicate that the course not only is informative -- it's a lot of fun!

Registrations for the course are limited and must be completed by no later than Wednesday, September 8. To register for the course, contact Norm Johnson at 703/360-6730 or Johnsall6@aol.com

If you have questions or want more information about the Colonial District Spring 1999 Scoutmastership Fundamentals course, contact Course Director Dominick Caridi at 703/360-9206 (home); 202/268-6488 (work), dscaridi@aol.com (home) or dcaridi@email.usps.gov (work).
This page was last updated on 09/02/99.